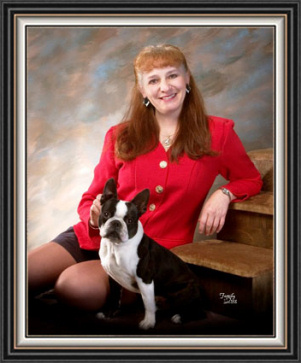 Hi There! Let me take a moment to introduce myself and tell you a bit about me and my dogs. My name is Pamela (no, not "Pam" - ha ha). I live in Northern California between Sacramento and Lake Tahoe in the beautiful foothills of the Sierra Nevadas. I have lived here since 1995 and just love it. Prior to that I lived in Texas for 15 years - Arlington, Dallas, & Houston. I've had Great Danes for tons of years (note I'm not giving my age away here….) and have had Bostons since early 2001.
To be honest, obtaining my first Boston was really just a fluke. My son, daughter-in-law, and grandson were living with me for awhile and wanted to get a small, but sturdy dog that would fit into their lifestyle, so being the nosy – oops..., I mean helpful, mom that I am, I started doing some research on the Internet about dogs and came to the conclusion that a Boston would be perfect for their family. So, as a surprise, I found a breeder and purchased a little bitch puppy for them.
Well, lo and behold, when my kids moved out, the little puppy, Ruthie, had fallen so in love me (or was it the other way around????) that she just couldn't leave with them. Oh well, I guess they'll have to find their own dog after all. But the bottom line is that I found this breed to be perfect for me. Don't get me wrong, I still have and adore my Danes too, but oh, the lovingness of the Bostons. If only I had found them sooner..

I have a small kennel in the foothills of Northern California. Actually, I hate to even use the term "kennel" as all of my dogs are indoor dogs and only go out to go "potty" or play in nice weather. They all sleep in my bedroom and are well socialized with other dogs, people and children. All puppies are whelped in the house and puppies stay inside until they are old enough to start running and playing, and then they get to go outside under close supervision.

You may be wondering where I got my kennel name, ChriMaso. I have two children, both boys, who I love more than anything else in the world. After my family, I love my dogs. Put it all together and what better kennel name for my dogs than the combination of the names of those I love even more than my dogs – MY KIDS - Christopher and Mason.
I thoroughly enjoy the sport of purebred dogs and am an active participant of numerous dog clubs and organizations as well as writers' groups and canine publications as noted below.
I love to show dogs I've bred myself. As you visit my other pages, you'll see the lovely dogs I've bred as well as those that I have purchased. They are all wonderful and special to me. The hobby of showing is my passion and these little guys make it a joy!

Bostons are intelligent, eager to please, and sometimes stubborn (comes from being smart), but they are always kind and loving. They are truly the American Gentleman of dogs.

Thank you for visiting. I hope you stop by again soon. Have a great day and may God bless you along the way!